Gamcha Farm is the origin of organic farming in Nepal. Today it works as a training centre and guesthouse for anyone who has interest in organic farming and living.
Stay at the heart of a Danida Project
:
Gamcha Farm came to us by chance, we will share that story with you when visiting...as we are willing to share our experience of the place with candor and sincerity with everybody who are interested, and particularly in telling about the many ups and downs there inevitably are in Nepal for such a Danish-supported project. Experience Nepal in a different way; come and visit us and stay at our Guesthouse. You will gain an insight into cultural differences and development in a fragile developing country. You are welcome to lend a hand with the organic farming and you can learn from or contribute to the project with your experience and expertise.
Welcome to organic taste impressions,
- and organic cultural experiences at Søbogaard, Nepal.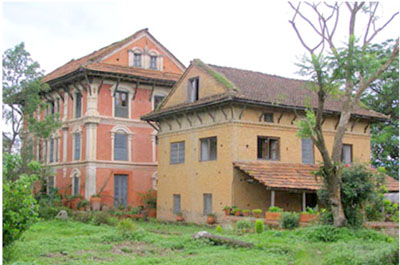 Farmers from around the world face different challenges while striving to make a difference. Co-opting a cultureIntegrating new techniques with old-world practices is the key to success for an organic farming cooperative in Nepal's Kathmandu ValleyTucked just outside of bustling and polluted Kathmandu lays a surprising oasis of thriving green fields and vibrant red brick buildings. Gamcha Organic Farm and Cooperative, a two-acre spread in the Bhaktapur district near Gamcha village, is a welcome retreat for those who desire safely cultivated produce.
An organic co-op is born
Thirteen neighboring farmers showed up at Gamcha Farm's first community meeting, and Chase's dream to turn her operation into a Nepalese-run co-op that would benefit indigenous farmers began to look feasible. Feasible, that is, if she could convince the farmers that organic methods would, in the end, yield more crops. To do this, Chase set aside one-quarter of her farmland to donate to individual farmers, and she organized workshops to teach organic practices with local conditions in mind. "We gave each person a plot of land on our land," says Chase. "Each person divided their plot in half and used biointensive, double-digging processes on one side and their traditional way on the other."
The Project:
Søbogaard and a local dairy in nearby medieval town of Bhaktapur, have made a joint venture, supported by Danida's Business-to-Business Programme. The project is based on the planting of Danish elderberry trees for elderflower concentrate for organic icecream and organic juice. At Gamcha we have collected a variety of test material and plant nursery material, which we plant out in large production areas, altitudes. We are aiming at organic certification for all our acreage. (We arrange tours to our production fields and ice-cream factory.)